I know. I know that its only Week 3 of the NFL Season, but its concluding Week 4 of the College season! But never to early to start looking at potential prospects for the Rams.
So here we go.
Round 1. Pick 5. Kenny Phillips S Miami
- Kenny Phillips is an absolute freak, people are saying that he is right up with the best Safeties in Hurricane history. People are saying that he is Sean Taylor minus the hitting, and also that he is better than the likes of Ed Reed and others. Playmaker, who is great in coverage and great in Run Support. Would be a great pick for us.
Round 2. Pick 5. Harry Douglas WR Louisville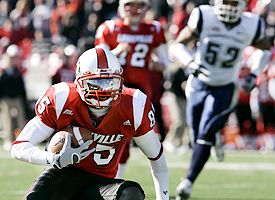 Round 3. Pick 5. Duane Brown OT Virginia Tech
Round 4. Pick 5. Mike Klinkenborg MLB Iowa
Round 5. Pick 5 Aadam Oliver DE georgia tech
Round 6. Pick 5 Bobby Byrd OG Washington State
Round 7. Pick 5 Josh Johnson QB San Diego