I figured it's midseason, making it the right time for a midseason mock, right? Let's begin!
------------
Resign
- DT Clifton Ryan:
The dude is starting to become a very good player, for those who watch all the games, you know exactly what I'm talking about. The last 3 weeks he's really clicked. He's in the backfield making plays, and he's plugging up gaps and getting penetration on running plays. He's even showed a few times the ability to rush the passer, with another solid Defensive Lineman, his skills would be nationally known. He's still young and hasn't entered his prime, he's just beginning to touch is potential. He's a cornerstone to our future.
- CB Jonathan Wade:
He's a solid Nickelback for us, he's been doing solid this season, nothing spectacular but he's got the size and speed to hang with the faster slot receivers. He again hasn't hit his potential yet and is entering his prime, which should set up for a nice turue with us.
- S Craig Dahl:
Craig has been very good for us since joining the Rams. He's arguably been our best performer at safety. Last week really showed us what he can do when early in the game against the Colts, Dahl blew up a toss play in the backfield for a loss of yards, making a great open field tackle. He hasn't been a liability in coverage either, he's not going to be expensive which is a big positive.
- LB Larry Grant
He's been solid, he's young and has been decent for us, he'll come cheap and could potentially start at SLB for us.
- T Alex Barron
As badly as some of us want him to leave, he hasn't been bad this year, and he hasn't been great. He's not going to demand a lot of money and can provide good depth and potential starting ability again next year. He needs a strong finish to get a decent contract. He's young as well.
- Richie Incognito
He's a decent player, and knows the system. He's showed flashes of Pro Bowl talent but has been inconsistent. He's young and could provide starter/depth ability.
A hard decision, but let OJ Atogwe test the market, he's been a turnover machine the past 2 seasons, but this season he isn't getting them. When he gets turnovers he's good, but when he doesn't, he's bad. He continues to be out of position, take poor angles and miss a lot of tackles while trying to punch the ball out. Someone will probably overpay for him, and I don't want it to be us. He's going to be 30 next year as well.
Cut:
RB Kenneth Darby
TE Randy McMichael
OG Jacob Bell
WR Tim Carter
WR Ruvell Martin
S David Roach
Free Agency
DE Aaron Kampman
- Most likely wont' be resigning in Green Bay, he's a very good DE in the 4-3 scheme. He can provide some nice help in the Pass Rushing game for us, he's currently in the 3-4 scheme which is not him. A move back to the 4-3 and his ability to play either RE or LE in the 4-3 makes it a very good option for St. Louis.
WR Lance Moore
- He's a very good receiver, he showed last season that he has "it". He's a option, he runs good routes, has excellent speed and hands, and is just a straight up playmaker. Something that we need. Laurant Robinson showed before his injury that he can be a good option for us at #1. Robinson has the size and the speed to be a legit #1. Moore can provide that deep threat and playmaking with Avery, Burton and a potential Brandon Gibson.
DT Barry Coefield
- Can provide some good depth for us, he's got the ability to be a good situation pass rusher. He did very well for Spagnuolo and hasn't been the same since he left.
LB Derrick Johnson
- He did very good under Dick Vermiel and his scheme and still did good with Shermon Edwards the past few seasons. The Chiefs are transitioning into a 3-4 defense which doesn't suit his talents. He's a SLB in a 4-3, and the Rams are in need of a good SLB. Johnson is only 26 years old and has a lot of potential, he'd be a great fit in Spagnuolo's scheme.
CB Marlin Jackson
- Would provide a nice talent for our CB situation. He's got some nice size as well as nice speed and coverage. He won't make a lot of picks but he gets a nice amount of Passes defensed.
RT Jeromey Clary
- He's been the man at the RT spot in San Diego for 3 years now, he's a bright young player and would anchor down the RT position while Jason Smith ( the future at LT ) mans his own natural position. He could help provide a bright future for our Offensive Line.
------
2010 NFL Draft
1. With the 5th pick in the 2010 NFL Draft ( yeah I know ) the St. Louis Rams select, Quarterback, Jake Locker, Washington
- Jake Locker possessed incredible athleticism, arm strength, toughness. He's got a cannon for an arm, the ability to scramble out of the pocket for long runs, and he possessed the accuracy and ability to throw on the run. He's got great size to go with it. This season his accuracy just keeps increasing too, something that's been knocked against him. Easily my favorite QB in the draft.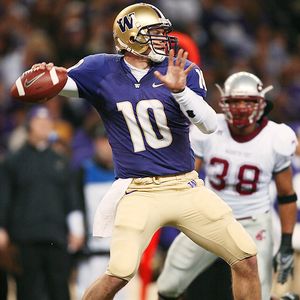 2. With the 37 pick in the 2010 NFL Draft, the St. Louis Rams select DT Jared Odrick, Penn State
- Odrick possesses the ability to rush the passer and also stop the run. This season he has 5 sacks so far, and has a 6'5" 306 pounds. He's a player that would do exceptionally well in a Steve Spagnuolo scheme, especially being paired with a young Clifton Ryan.
3. Justin Woodall, S, Alabama
- Hard hitting plalymaker that could come in and fill in for Atogwe in the future.
4. Blair White, WR, Michigan State
- He's been putting on a great showing this season so far. A former walk on at Michigan State and has turned into a baller. Reminds me a lot of the Kevin Curtis that played in St. Louis. He's a great guy and a real good player and just finds ways to get open.
5A) A.J. Edds, WLB, Iowa
- Has a sure tackle, hard hitting style. He's been real good in coverage and has played WLB for us. He's good at blitzing and especially good at dropping in coverage.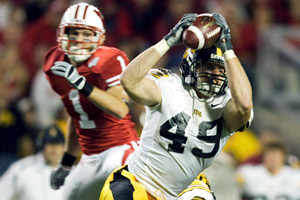 5B) Alex Carrington, DE, Arkansas State
- In 2008 he finished with 10 sacks, showing a great ability to rush the passer, in 2009, he only has 2 sacks, he has the potential and the ability. He's been inconsistent.
6) Alfonso Smith, RB, Kentucky
- Has shown the ability to have breakaway playmaking ability, he could challenge Gado for the #2 RB spot.
7) Brian Jackson, CB, Oklahoma
- Nice size and decent ability.
Depth Chart
Offense:
QB Jake Locker
RB Steven Jackson
FB Mike Karney
TE Daniel Fells
LT Jason Smith
LG John Greco
C Jason Brown
RG Richie Incognito
RT Jeromey Clary
WR Laurant Robinson
WR Donnie Avery
WR Lance Moore
Defense:
LE Chris Long ( A move back to his natural and best position will do him WONDERS. )
DT Clifton Ryan
DT Jared Odrick
RE Aaron Kampman
WLB AJ Edds
MLB James Laurinatis
SLB Derrick Johnson
CB Marlin Jackson
FS Justin Woodell
SS James Butler
CB Ron Bartell
P Donnie Jones
K Josh Brown
PR Danny Amendola
KR Danny Amendola