Free Agents
O.J. Otogwe, FS, Rams
- Gotta bring him back. One of the better play making safeties in the league
Thomas Howard, OLB, Raiders-
Great LB, fast(plays for all Davis what do you expect) big hitter, decent pass rusher. Where he excels in comparison to other LBs is coverage. As a former safety he has the size and speed to perfectly match up against TE's. Rams don't know how to cover TE's so this will help. The Raiders don't know what they are doing so his stats have gone down playing more on the strong side. He is a pure WLB and would be a good compliment to Lauranatis.
Tavaris Jackson, QB, Vikings-
He has got potential, mobility for the system, and has learned to make better decisions. He is starting right now if Brett Farve was a decisive person. Are the Vikings still 11-2? Maybe

Tony Schefler, TE, Broncos-
Really underutilized in Denver, will lower asking price. Ton of talent as receiver exactly what the rams need in the red zone and passing game in general.

Zach Strief, OT, Saints-
last thing the Rams want to do is spend another boatload of cash on another offensive lineman. Strief great size 6'7 325 cheaper option who could surprise at RT. Goldberg really played his best at RG he will start their for now.

Karl Paymah, CB, Vikings-
Bigger more physical corner spags wants. Can start until Fletcher comes back then be a really good nickel

Leonard Little, DE, Rams
- Brought back cheap 1 year deal, provides a pass rush until a younger guy develops.
1. Ndamukong Suh, DT, Nebraska-
Beast what can I say. A line with Long, Ryan, Suh, and a RE. Great young defensive line, with the potential to be dominant.
2. Colt McCoy, QB, Texas
Mobil, great leader. He will definately need some time to transition from the spread to a pro style offense. Might not have the arm, but he has the intangibles to be a good QB.
3. Danario Alexander, WR, Missouri
Big receiver the Rams currently don't have. 6-5 with great hands and is definately a threat in the red zone. Beastly local Mizzou boy. Adds another element to what our other young guys offer.
4. Danny Batten, DE, South Dakota State
After raiding the big 12 from its best players the Rams go to South Dakota State. Batten one of the best pass rushers in D II. Future at RE and will instantly rotate in as a pass rusher. With Long, Ryan, Suh if Batten develops. Dare I say it fearsome foursome part deux?
5. Vladimir Ducase, OL, Massachusetts
Plays LT at Massachusetts, but would probably play guard or RT in the pros. 6-5 330 he is a behemoth. Great run blocker and good in pass protection. Probably would be the future at RG since Goldberg is only signed through 2011 and we aren't sure what he have in Grecco.
5. Lamarcus Cooker, RB, Hampton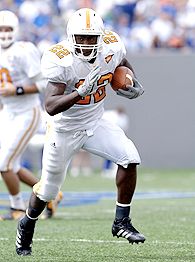 Fast explosive guy perfect complement to S-Jax. Rams need some explosion and they get it.
6. Josh Hull, LB, Penn State
With 2 stars in Williams and Lauranatis, the rams will be fine with Vobora and Grant. Vobora was coming on pre injury and grant has shown flashes. Hull adds some competition can play all 3 LB spots.
7. John Fletcher, DE, Wyoming
Spags loves his DE's. Adds another guy to give some reps to. Probably could learn to play some DT also.
7. Nate Byham, TE, Pittsburgh
Third TE behind the Blocker Bajema and Receiver Scheffler. Byham offers a little of both as the 3rd TE.