Personally, ill probably lose popularity for this, but i wanna grab Clausen over Suh at this point. I want us to trade down a few spots and pick up another 2nd round pick (or first round if humanly possible) and grab him. I love Suh just as much as the next guy but he wont get us a passing offense....and we still don't know what we have in Carriker, Ryan has been solid as well. Long has definitely come along and will hold down the LE spot, and hopefully we can pick up another DE in the second round or through FA.
The rams will quite simply continue to fail utterly without a quarterback and this was as plain as day in our most recent failure against the *****. Shut the ***** out of the game for 3 quarters!!! Then let them poor it on in the last quarter because no doubt our defense got gassed, and the ***** were able to pull it out because they have an offense and we don't..
Give us a quarterback that can make all the throws (love him or not: Clausen can make all the throws) and we have a chance to win that ball game. I'm not knocking Null because i understand his situation, but you put a Warner (who Clausen reminds me of sort of, with a bigger arm) and you convert those field goals in the points. Broad assumption but i think its at least reasonable to say, despite our horrible o-line woes, Clausen with his quick release could have converted a lot more of those third downs with less arid throws and accidents.
Making the Case for Clausen
Strengths:
Solid size and adequate bulk
Very good arm strength; can fit balls into tight windows
Extremely quick, snappy release
Great accuracy
Nice hip torque on throws
Gets rid of ball quickly
Very decisive with the football
Takes what defense gives him; doesn't force ball/will throw away
Elite football IQ
Great touch
Well versed in NFL offense
Good sense of timing
Will step up/out of pocket
Knows how to read coverage
Sees the entire field; great vision
Very polished for a true junior
Shown outstanding development from freshman to junior season
Extremely intelligent
Ice in his veins; great poise
Mentally tough; plays through pain
Big leader
Confident
Film room rat
Elite intangibles
Good genetics and very well coached
Spent 3.5 years in a West Coast offense
Weaknesses:
Does a poor job of selling play action
Footwork used to be a bit shoddy, has improved
Not a fluid athlete
Personality might come off as abrasive
Sometimes gets too much air under fade route
Lacks a little pocket awareness
We want less rookie down time because we need wins NAO; this guy is the most pro ready quarterback in this years draft EASY.
Interesting tid bit on Clausen's stats Ive found.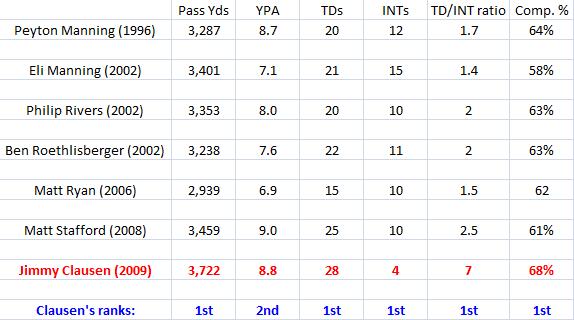 --Courtesy of Walter Football