FREE AGENCY (Uncapped year)

O.J. Otogwe, FS, Rams
- Gotta bring him back, he is playmaker that's hard to find
Ben Watson, TE, Patriots
- Good receiver and Red Zone threat, gives alot of matchup problems and just another weapon the Rams need
Rashad Jeanty, OLB, Bengals
- RFA, but the Bengals are deep enough to let him go. He will start at SLB and move Vobora to WLB where he is better suited
Chester Taylor, RB, Vikings
- He is getting old in RB years, but he still gets it done. Ogobonaya has a very similar skill set and Taylor backs up S-Jax and helps groom Ogbonaya in his mold.
Chris Redman, QB, Falcons
- Devaney will go for a QB he knows to be his backup. Redman is old, but he gives you just as much as Bulger at a much cheaper price and is only 2 years older.
Karl Paymah, CB, Vikings
- Vikes have depth at CB so Paymah walks. He will get a shot to start, but will probably be the nickel back with a healthy Flethcer and Bartell starting.
Draft
1. Jimmy Claussen, QB, Notre Dame
Before you click the X because this isn't Suh, here me out. He is Franchise QB. He has the accuracy and the arm. He make things work in the pocket when in trouble. He can rally his team in the 4th quarter. The most underacted aspect about his games and is one the most important part of any QB is his toughness. He is tough and played through an injury that required surgery and still put up excellent numbers. He lead one of the best offenses in the NCAA, but on the other side his defense let him down and that reflected in the record. I am assuming Claussen wows Devaney and company on tape, in his interviews, and in April Work outs. They will be convinced he is franchise QB and decide to pass on Suh. If they can get a trade down with the Bucs they'll take it and still get that their guy. Cards put up 51 against the second best defense in the league just think about that and the fact that they are in our division.
2. Demaryius Thomas, WR, Georgia Tech.
The Rams could go D-Line here, but the Rams are in desperate need for elite type playmakers on offense and Jimmy Claussen needs weapons. 6'3 230 and a great blocker. He is raw as a receiver, but he has all the tools to be a Brandon Marshall type of player. Even in the triple option he found ways to make big plays as receiver. Laurant Robinson has the size and speed to be a great number 2 opposite Thomas as long as he stays healthy. The Rams offense will be young and explosive with Thomas, Robinson, Claussen, and S-Jax and a solid line when healthy. Unless Kurt Warner Retires you are going to have to score points to win the division. 51 points on the second best defense in the NFL?!?! Is that a joke
3. Lamar Houston, DT, Texas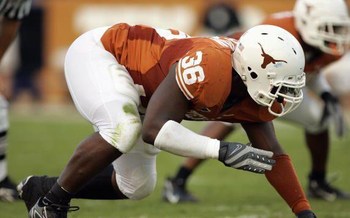 DT is the deepest position in this draft. Houston is great penetrating UT who will get in the backfield and get some sacks. He and Clifton Ryan will be a great duo, with Scott and Carriker coming off the bench. Ryan top 3 among DTs in tackles for loss one of the most underatted players in all of the NFL. Houston, Ryan, and Scott with a rapidly developing Chris Long under the tutelage of Spags could be a great young line
4. Austen Lane, DE, Murray State
Could be the final piece to Spags great young line. He will start off as a situational guy, but has tremendous pass rush skills. He could go high as the late second, but I think he will fall like another 1AA DE Lawrence Sidburry did
5. Perry Riley, OLB, LSU
Fast athletic LB, who would come instantly and fight Vobora for his spot. At least he is good depth and a special teamer.
5. Jared Veldheer, OT, Hillsdale
6'8 320 and athletic. Dominated D2 and was the best lineman in all of D2. He will learn behind Goldberg who will be a stop gap at tackle once again. Smith, Bell, Brown, Grecco/Setterstrom, and Veldheer will do a great job blocking for S-Jax and protecting Claussen for years.
6. Van Eskridge, S, Eastern Carolina
Center fielder more of a cover safety. Adds another dimension to the Rams safety crew also a special teamer.
7. Reggie Stephens, OG, Iowa State
Big Physical guard. Did a great job against Suh, he is a steal this low. Great depth especially if our guards end up getting banged up again.
7. Chris Cook, CB, Virginia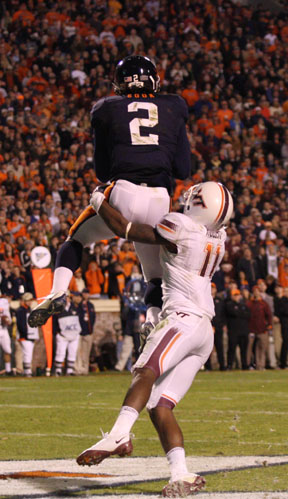 Big Physical corner with good ball skills. Seeing the Rams CB don't have any ball skills he could help out. He will compete for the Dime job with Justin King and Quincy Butler.