Another one of my mock drafts.
Some changes have been made since my last mock, including the addition of the FA. Well, here it goes.
FA:
Mark Anderson, DE Chicago Bears (Mid-level FA signing)
Richard Marshall, CB Carolina Panthers (Premium-level FA signing)
Chris Gocong, OLB Philadelphia Eagles (Low-level FA signing)
Tony Scheffler, TE Denver Broncos (Mid-level FA signing)
Re-signing:
O.J Atogwe
James Hall
Gary Gibson
Craig Dahl
Clifton Ryan
The team's needs after the Free Agency:
DT
QB
back-up RB
#1 WR
OLB (Chris Gocong will man one OLB spot.)
OG
RT
Draft:
Round 1:
Ndamukong Suh, DT, 6-4 300+ lbs. Nebraska
There is no need for me to preach what has already been preached many times.
Round 2: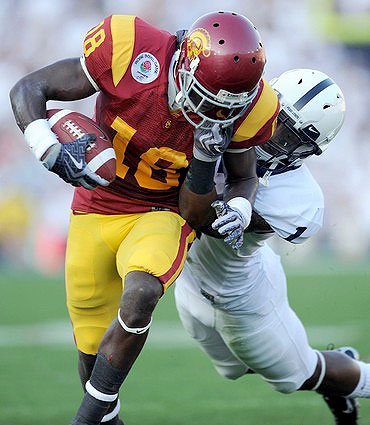 Damian Williams, WR, 6-1 190lbs. USC
Some people will question this and say, how about Demaryius Thomas out of Georgia Tech? Won't Williams go in the first round?
IMO, I think Williams is going to be available in the start of the second round. Some franchises might go after WR's with prettier numbers than Williams, which might have him being available for us in the second round.
Why Williams you ask?
Because Williams plays in a pro-style offense, has elite route running which is a perfect fit for our WCO, is very quick out of his cuts, great hands, amazing hand-eye coordination, and is a very smart football player with good character.
Round 3: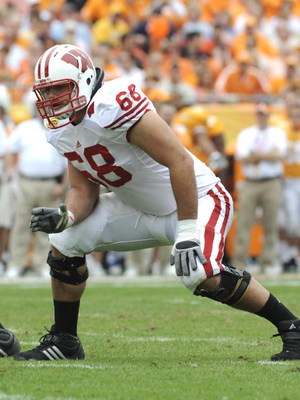 Gabe Carimi, OT, 6-8, 320lbs. Wisconsin
Took over for Joe Thomas in Wisconsin, a school known for producing solid O-linemen. Carimi has very good footwork for a 6-8 human being, and is very stout in pass protection. Has enough athleticism to man the LT spott in the NFL, but he would excel at the RT due to his amazing run blocking skills. Very balanced blocker who uses his long arms to push defenders off the line of scrimmage.
Round 4:
Sean Canfield, QB, 6-4, 215lbs. Oregon State
Lacking in athleticism, strength and speed, he makes up for it with good accuracy and good arm strength. He is a very good pocket passer, always maintaining his composure in the pocket, and makes the correct reads. Shows good touch and timing on his passes, with a good release.
Round 5:
Dexter McCluster, RB/WR, 5-8, 170lbs. Ole Miss
May drop because franchises might hesitate on him due to his small frame, which would lead to questions about durability/injury proneness..etc.
Would be a great change of pace back for Steven Jackson. Very quick and elusive, and has good ball carrying vision. Can also be used effectively in screens, which would optimize his speed.
Round 5:
Kavell Conner, OLB, 6-1, 235lbs. Clemson
Had a great junior season in 2008 amassing 125 tackles. Dropped off a bit in 2009, but still picked up over 100 tackles. Connor is a very strong linebacker, with good durability. Should challenge Vobora for the last OLB spot.
Round 6:
Brandon Carter, OG, 6-7, 350lbs. Texas Tech
Underrated lineman. Was suspended for some time this season, but came back strong and was one of the Big 12's best blockers. Has a massive frame, and bulldozes defenders off the line of scrimmage. Shows amazing intensity every play, and will not give up. Will initially start as a back-up, but should make his way into the starting line-up midway through the season, or by next year.
Round 7:
Andrew Quarless, TE, 6-5, 255lbs. Penn State
Had some character problems during his college career. But, has pulled his act together during his senior year. Is a very good receiving tight end, who is surprisingly fast. Quarless with Scheffler could give us a solid TE duo.
Round 7:
Brandon Sharpe, DE/OLB, 6-3, 254lbs. Texas Tech
Will not wow you with his speed, strength, or talent, but always somehow finds a way to get to the QB. Had 17 sacks this year as a senior. With more bulk, and the right coaching, this guy could be a force.
Wrap-up:
As you can see, most of the draft's emphasis is on the offense, since that is the unit on this team that needs the most help. Defense has been taken care of by the FA, with a few more additions by the draft.
Mark Anderson, Ndamukong Suh, and Brandon Sharpe are added onto the defensive line.
Chris Gocong and Kavell Conner are added onto the linebacker corp.
Richard Marshall solidifies our secondary by being a true starter opposite of Bartell.
Gabe Carimi and Brandon Carter are added onto our offensive line.
Tony Scheffler, Andrew Quarless, Damian Williams and Dexter McCluster are added as much needed playmakers/receiving threats.
Sean Canfield is our QB of the future.