Free Agency(Uncapped Year)

O.J. Otogwe, FS, Rams
- Great Playmakers are hard to find you have to keep them when you have one
Ben Watson, TE, Patriots
- Hands are iffy at times, but when he does hold on he is a playmaker. He wasn't really used in the pats system, but we could really use him here.
Lito Sheppard, CB, Jets
- With a huge Bonus coming Sheppard will be released. He isn't the player he was when
Spags
was coaching, but he will get a shot here. He will step in until Fletcher is good to go then he will move to the nickel.
Chad Pennington, QB, Dolphins
- Cheaper version of Bulger.
Antwan Barnes, OLB, Ravens
(RFA)- Ravens are deep at LB, and at times weren't high on Barnes, so they'll let him go. Barnes is hard hitter and good pass rusher and would be a good fit at SLB.

Zach Strief, OT, Saints(RFA)-
There RT Stinchcomb is signed long term. They will focus on retaining Bushrod and Jamal Brown their 2 options at LT. Strief is a massive Tackle and could come in to compete with Grecco, Settersttom, and Goldberg for the 2 spots on the right side

1. Sam Bradford, QB, Oklahoma
This picks could still be Jimmy Claussen, but IMO Bradford and Clausen are really close right now so i'll switch it up. Bradford is accurate and extremely intelligent. he has the height and leadership qualities you look for in a good QB. He hasn't faced alot of adversity, but where he can really make headway is in the interview room.
2. Brandon Lafell, WR, LSU
6'3 'Big physical receiver with good hands. He isn't the fastest guy but he is physical, a good route runner, and has great body control. He doesn't have the upside of Arrelious Benn or Demaryius Thomas, but he has the same physical style and he is much more polished as a receiver. His greatest strength is his redzone ability where he uses his length and body control to win battles in the endzone.
3. Lamar Houston, DT, Texas
DT is this Drafts deepest position. Houston is a legit second round prospect, but the deep draft pushes him. Houston specializes in penetration and sacking the QB one of the weakness of our current DTs.
Spags
will use his rotation to the fullest extent to maximize the talents of all our young DTs.
4. AJ Edds, OLB, Iowa
One of the best cover backers in the draft. All areas of his game are polished and he is the physical heavy hitter
spags
likes in his LBs. He is ready to start instantly at WLB especially on this team.
5. Lindsey Witten, DE, UCONN
Witten is a pure pass rusher who needs to polish the rest of his game, but he has a ton of upside. He will start of as a situational pass rusher and will have time to learn behind Hall.
Spags
doesn't need all stars he needs a good rotation of versatile linemen.
5. Joique Bell, RB, Wayne State
Versatile RB can do a little of everything. He reminds me of Derrick Ward. He and Ogbonaya will backup S-Jax.
6. Chris Cook, CB, Virginia
Big physical corner 6-2 210, he could be developed into a good press corner. He will be a special teamer and could work his way into the dime back job.
7. Marshall Newhouse, OL, TCU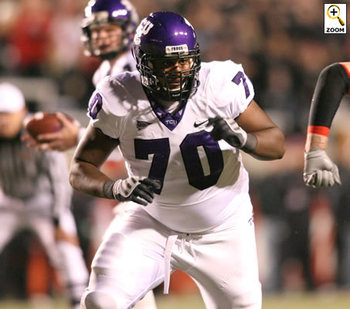 Can Play every position on the O-Line. Depth that we need on the O-line
7. Clifton Geathers, DE, South Carolina
6-7 281 with a quick first step. His size and upside give him the ability to play LE and DT.
Spags
likes versatile lineman and Geathers is just a