1. Ndamukong Suh, DT, Nebraska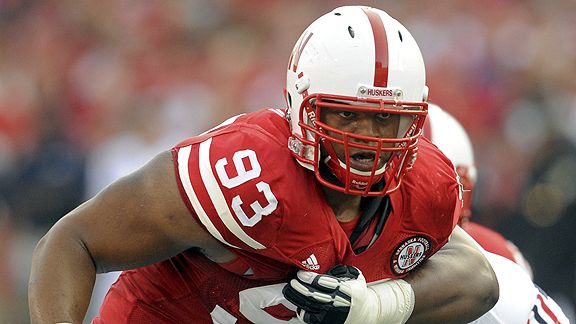 Appears to be the consensus #1 prospect in this year's draft class, the Rams could use a disruptive force like Suh to anchor their defensive line. If the front office doesn't feel like Jimmy Clausen or Sam Bradford are worth the 1st overall pick here, then Suh is the choice. Trading down and picking up some extra picks is also a possibility.
2. Sean Weatherspoon, OLB, Missouri
It might be a stretch to have him falling to the second, but the Rams got a stud MLB in Laurainitis last year in the 2nd. An upgrade at both OLB positions is needed and 'Spoon II could come in and replace the aging Paris Lenon.
3. Dexter McCluster, RB/WR, Mississippi
A play-maker the Rams definitely need on offense and a great change-of-pace guy for SJax. Probably the most versatile weapon in the draft, McCluster's blazing speed could be used all over the field, including returning kicks.
4. Jarrett Brown, QB, West Virginia
A raw prospect, but Brown has the size (6'4, 221) and arm strength to be an effective NFL quarterback. He's also very mobile and can make plays with his feet. A bit of a prospect, but could be groomed into the QB of the future.
5. a) Lindsey Witten, DE, Connecticut
Great size (6'5, 260) and coming off a solid senior year (13.0 TFL, 13.5 sacks), Witten can be used in the DL rotation with Leonard Little. With a good combine, he'll probably go much higher than this.
5. b) Ed Dickson, TE, Oregon
Had a solid senior bowl and will give the Rams the solid red-zone target they desperately need with his good hands and height.
6. Adam Ulatoski, OT, Texas
Great size, depth along the OL.
7. a) Dominique Harris, S, Temple
Safety, special teams depth.
7. b) Dan Doering, OG, Iowa
Great size, OL depth.