This is just a quickie mock, so I did not include a free agent section.
One major event: We trade our 1st round to Tampa Bay in return for their 1st, 2nd, and 4th round pick.



Round 1:
Sam Bradford [6'4, 225lbs.] Oklahoma (QB) *VIA Trade*
Analysis:
Bradford has all the tools to succeed and dominate in the NFL, and he has tremendous potential. New regimes mean new quarterbacks. Bradford will be the new face of our franchise.
Round 2:
Jermaine Gresham [6'6, 260lbs.] Oklahoma (TE)
Analysis:
We finally get the big, endzone target we've desperately needed for quite some time. Has played with Bradford too, so there is already some timing between them.
Round 2:
Brandon Ghee [6'0, 190lbs.] Wake Forest (CB) *VIA Trade*
Analysis:
A very instinctive and physical corner. Has very good speed, and is a good athlete. Takes quick cuts, solid in both man and zone, and is a confident player.


Round 3:
A.J Edds [6'4, 245lbs.] Iowa (SLB)
Analysis:
Blessed with great size. Is a pure strongside linebacker, and should complement Laurinaitis very well. Solid tackler and has improved his coverage vastly this season.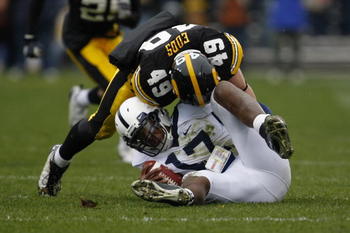 Round 4:
Jared Veldheer [6'9, 325lbs.] Hillsdale (OT)
Analysis:
His frame is similar to Johnathan Ogden, Jared Gaither, and Sebastian Vollmer. Very massive size, and should become our starter at RT.

Round 4:
Austen Lane [6'6, 267lbs.] Murray State (DE) *VIA Trade*
Analysis:
Good athlete, very disruptive. A powerful tackler, and he is a pass-rushing machine. Needs to improve run stopping though.
Round 5:
Rico McCoy [6'1, 220lbs.] Tennessee (WLB)
Analysis:
A very rangy linebacker, and is very, very fast. Should complete our linebacker trio alongside Laurinaitis and Edds. Has the speed to cover sideline to sideline, but needs to add some bulk to his frame.
Round 5:
Vince Oghobaase [6'6, 305lbs.] Duke (DT) *VIA Trade* (From Eagles)
Analysis:
Should be a good addition to our DT rotation. Had a pretty good junior season last year, but missed several games due to injuries and has hurt his stats and stock. Has good agility, and smarts for the game.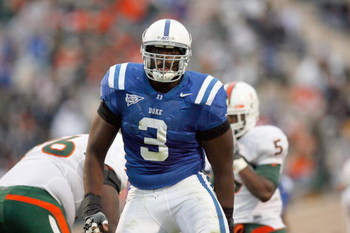 Round 6:
Andrew Quarless [6'5, 252lbs.] Penn State (TE)
Analysis:
Could become our 2nd TE. Great athlete, and great pass catching TE. The reason why he is projected so low is because of a history of getting in trouble, but he has not been in trouble for a while. He's maybe cleaned up.
Round 7:
Brandon Carter [6'7, 350lbs.] Texas Tech (OG)
Analysis:
Scary guy. Great depth for the O-line, and could figure into the mix for the starting RG spot.
Round 7:
James Starks [6'2, 211lbs.] Buffalo (RB) *VIA Trade* (From Atlanta)
Analysis:
Had a solid junior season last year, but missed this entire year due to a shoulder injury. Should complement Jackson and Ogbonaya well.