Here's an attempt at a four round mock draft. Why not seven you ask? Well my knowledge of the athletes isn't sufficient at the moment, so I might as well not bother at the moment. That being said, here's my first four rounds.
Round 1, Pick 1 --- Jimmy Clausen (QB – Notre Dame)
The debate will continue to rage between QB vs. DT, however, in the end I think Spags will end up choosing his franchise QB.
Other options for this pick:
1. Sam Bradford (QB – Oklahoma)
2. Ndamukong Suh (DT – Nebraska)
3. Gerald MCCoy (DT – Oklahoma)
Round 2, Pick 33 --- Damian Williams (WR – USC)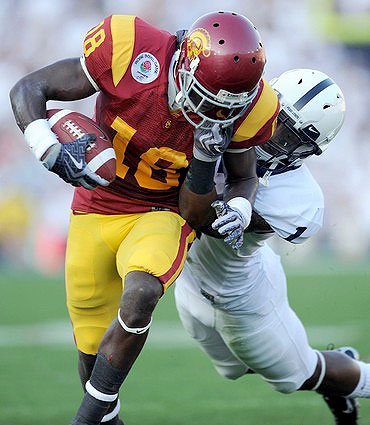 Williams would give us a great route-runner, and could be a Reggie Wayne type player for us. Should be noted though, that I think next year will be a much much better year to get a #1 receiver than this year (better prospects)…
Other options for this pick:
1. Jermaine Gresham (TE – Oklahoma)
2. Brandon LaFell (WR – LSU)
3. Arrelious Been (WR – Illinois)
Round 3, Pick 65 --- Geno Atkins (DT – Georgia)
Had a great senior bowl, was beating up on Iupati.
Other options for this pick:
1. Lamarr Houston (DT – Texas)
2. Arthur Jones (DT – Syracuse)
3. Brandon Lang (DE – Troy)
Round 4, Pick 97 --- Austen Lane (DE – Murray State)
This pick gives us a solid pass rusher opposite of Long. If he had played a bigger school, I could see him going in the late 2nd to mid 3rd.
Other options for this pick:
1. Ciron Black (RT – LSU)
2. Anthony McCoy (TE – USC)
3. Demaryius Thomas (WR – Georgia Tech)