Round 1: Sam Bradford, QB, Oklahoma
At this point, its hard to dispute that the first pick is Bradford's to lose. I've watched a lot of highlight films, and I like what I see. If the Rams feel the same when they look at his medical report and workouts, I think they will pull the trigger and take the player that they hope will start at QB for the next ten years.
Round 2: Jahvid Best, RB, California
I think the Rams and Best need each other. The Rams need a No. 2 back who can take the pressure off Steven Jackson, break big runs, and be groomed to be the No. 1 back in a few years when Jackson slows down. Best needs a team that won't make him carry the ball 25 times per game as a rookie. Its a match.
Round 3: Alex Carrington, DE, Arkansas State
Carrington is Spags' kind of DL. He can play DE in a base 4-3, and slide inside as a pass rusher as well. His stock went up at the Senior Bowl, where he was viewed as one of the best defenders on either squad. I think he's a good value at this spot.
Round 4: Marshall Newhouse, OT, TCU
Newhouse has good size (326 lbs.) and athleticism. He was a LT in college, but fits better as a RT in the pros. With Alex Barron's time running short with the Rams, Newhouse could be a future starter.
Round 5: Perry Riley, OLB, LSU
The Rams need to add some young LB talent. Riley has nice size and good speed. He could compete for the starting spot at WLB.
Round 5: Marcus Easley, WR, Connecticut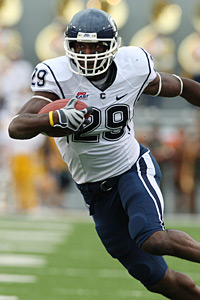 Big (6'3, 210) and fast (4.46). He had a breakout season at UConn last year. If he makes the team, though, he'll have to pick another jersey number.
Round 6: Brandon Sharpe, OLB/DE, Texas Tech
An under-the-radar selection, Sharpe is a pure pass rushing specialist. The Rams could use a guy like him.
Round 7: Reed Williams, MLB, West Virginia
Williams does not project as a starter, but he could be the Rams' version of a guy like Larry Izzo while backing up James Laurinaitis.
Round 7: Jarvis Geathers, OLB/DE, UCF
Another guy for special teams and the pass rush rotation.
Round 7: Patrick Stoudamire, CB, Western Illinois
Local kid can provide depth in the defensive backfield and on special teams. Good size (5'10, 205)/speed (4.45) combo.
And...
Here is my First Round (+1) Mock:
1.
St. Louis Rams: Sam Bradford, QB, Oklahoma
2.
Detroit Lions: Ndamukong Suh, DT, Nebraska
3.
Tampa Bay Buccaneers: Gerald McCoy, DT, Oklahoma
4.
Washington Redskins: Russell Okung, OT, Oklahoma State
5.
Kansas City Chiefs: Eric Berry, S, Tennessee
6.
Seattle Seahawks: Brian Bulaga, OT, Iowa
7.
Cleveland Browns: Joe Haden, CB, Florida
8.
Oakland Raiders: Jason Pierre-Paul, DE, South Florida
9.
Buffalo Bills: Dan Williams, DT, Tennessee
10.
Jacksonville Jaguars: Derrick Morgan, DE, Georgia Tech
11.
Denver Broncos: Rolando McClain, LB, Alabama
12.
Miami Dolphins: Dez Bryant, WR, Oklahoma State
13.
San Francisco Niners: Mike Iupati, OG, Idaho
14.
Seattle Seahawks: C.J. Spiller, RB, Clemson
15.
New York Giants: Kyle Wilson, CB, Boise State
16.
Tennessee Titans: Sean Weatherspoon, LB, Missouri
17.
San Francisco Niners: Jared Odrick, DE/DT, Penn State
18.
Pittsburgh Steelers: Trent Williams, OT, Oklahoma
19.
Atlanta Falcons: Everson Griffen, DE, USC
20.
Houston Texans: Earl Thomas, S, Texas
21.
Cincinnati Bengals: Jermaine Gresham, TE, Oklahoma
22.
New England Patriots: Brandon Graham, OLB, Michigan
23.
Green Bay Packers: Anthony Davis, OT, Rutgers
24.
Philadelphia Eagles: Taylor Mays, S, USC
25.
Baltimore Ravens: Sergio Kindle, OLB, Texas
26.
Arizona Cardinals: Jimmy Clausen, QB, Notre Dame
27.
Dallas Cowboys: Vladimir Ducasse, OT, Massachusetts
28.
San Diego Chargers: Ryan Matthews, RB, Fresno State
29.
New York Jets: Golden Tate, WR, Notre Dame
30.
Minnesota Vikings: Colt McCoy, QB, Texas
31.
Indianapolis Colts: Charles Brown, OT, Texas
32.
New Orleans Saints: Carlos Dunlap, DE, Florida
33.
St. Louis Rams: Jahvid Best, RB, California