1. Sam Bradford, QB, Oklahoma
Franchise QB. Has all the intangibles you need to succeed. Excellent accuracy, great leader. Lets Talk Numbers.
TRADE!!!! Houston Trades picks (51, 83)
2. Aaron Hernandez, TE, Florida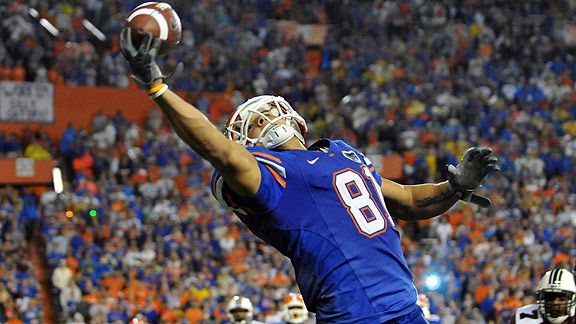 First Off Houston does the deal to trade up and get the best RB or DB that falls out of round 1. Hernandez has excellent hands and great speed. Can make an instant impact in the passing game as he continues to develop as a blocker.
3. Jermaine Cunningham, DE, Florida
Cunningham has good speed of the edge, and is good in all aspects as a pass rusher. He will be the future at RE opposite Long.
3. Ben Tate, RB, Auburn
Perfect compliment to S-jax. 4.3 Speed at 220 pounds. He is great pass blocker and receiver out of the backfield would be the perfect number 2 back on this team.
4. AJ Edds, LB, Iowa
Big tough LB Spags likes 6'4 246. He is a good enough athlete and excels in coverage. Could probably play all LB positions, but will play at our biggest weakness WLB.
5. Marcus Easly, WR, UCONN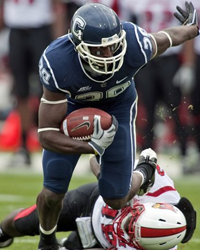 Homer Pick lol. This kid has a ton of talent extremely fast good size. Give him some more experience and time to develop and he will be a gem.
5. Derek Hardman, OT, Eastern Kentucky
One of the better tackles in DII. Could be good depth possibly a future starter at RT.
6. Clifton Geathers, DL, South Carolina
6'8 300 DE. Could gives spags the versatility he likes on the D-line. He isn't a finished product, but spags will definately coach him up.
7. George Johnson, DE, Rutgers
Good size and athletic. Alot of experience could join the rotation on the d-line.
7. Adrian Tracy, LB, William & Marry
Former DE, but will probably move to LB. He could develop into a good special teamer/ Utility LB like Spags did with Chase Black burn.
7. Van Eksridge, FS, Eastern Carolina
Great instinctive safety. Could instantly contribute on special teams and be depth at FS.