1.01- Sam Bradford- QB
Well, he certainly stepped up and showed he was worth the number one pick. He answered questions about his frame by bulking up to 236, answered questions about his arm strength by hitting receivers in stride 50 yards down field and has answered questions about his surgery through doctors opinions.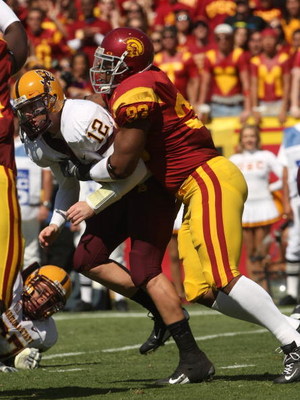 2.01- Everson Griffen- DE
I think DE is a much bigger need than DT and I think Griffen has a lot of potential. He reminds me of Calias Campbell out of college, a lot of skill, a lot of questions about his productivity and attitude. I think with the coaching from Spags, he'll turn into a consistent pass rusher and good run stopper.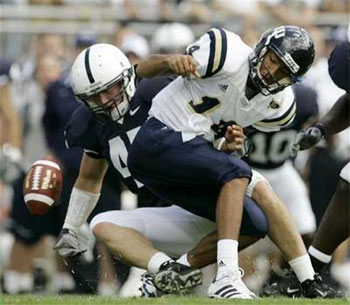 3.01- Sean Lee- WLB
A very technically sound LB to play the weak-side beside another technically sound LB in James Laurinaitis. He's got a lot of talent but injury concerns are there. I expect him to be a very productive player at the next level.
4.01- Jimmy Graham- TE
An elite physical specimen who should develop into a great TE both receiving and blocking wise. He's a project, but he should come around and be an excellent weapon.
5.01- Kyle Calloway- RT
A big tackle who should compete for the RT position moving Barron to provide excellent depth at LT and RT. He's a driving run blocker, yet athletic enough to stick with most speed rushers.
5.24- Willie Young- DE
Again, end is such a weakness on this team, so we grab another end for Spags to develop. Young is lanky and lean, so he will probably need to put on some weight to be an every down end in the league. He should see time as a speed rusher in the rotation right away. He's been compared to Mathias Kiwanuka who Spags worked with in New York.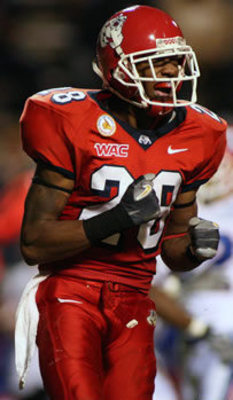 6.01- AJ Jefferson- CB
A nice blend of size and speed at the CB position and he should provide some good depth. He needs to work on his ball skills and not peaking into the backfield, but he does take good angles and plays pretty physical.
7.01- Clifton Geathers- DT
A 6'8, 299 pound monster who will likely put on a fair amount of weight to play in the middle. His frame can support it, and he could be a 320 pound athletic, pass rushing DT. He is very raw though and he will need everything Spags has to develop into a solid contributor.
7.19- Danario Alexander- WR
The perfect physical specimen at receiver, but he can't stay healthy. This is a risk/reward pick but he could frustrate us with potential for years and years.
7.47- Trindon Holliday- KR
He doesn't really add anything to the offense, but he could be a tremendous weapon in the return game. He's 5'5 and 160 pounds so durability is a concern, but that's why he's available here. If he doesn't pan out, AJ Jefferson has some experience returning kicks and Danny Amendola did an ok job last year.
Thoughts?