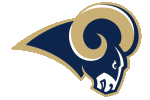 Los Angeles Rams
Vince Biegel, OLB, Wisconsin (SR)
Austin Carr, WR, Northwestern (EW)
Julie'n Davenport, OT, Bucknell (SR)
Dion Dawkins, OT, Temple (SR)
Jessamen Dunker, G, Tennessee State (SR)
Evan Engram, TE, Ole Miss (SR)
Kyle Fuller, C, Baylor (SR)
Geoff Gray, G, Manitoba (EW)
William Holden, OT, Vanderbilt (EW)
O.J. Howard, TE, Alabama (COM)
Tobijah Hughley, C, Louisville (EW)
Joey Ivie, DT, Florida (EW)
Forrest Lamp, OT/G, Western Kentucky (SR)
Wes Lunt, QB, Illinois (EW)
Erik Magnuson, OT, Michigan (EW)
Taylor Moton, OT/G, Western Michigan (SR)
Kenneth Olugbode, OLB, Colorado (EW)
Derek Rivers, DE, Youngstown State (SR)
Chase Roullier, C, Wyoming (EW)
Tanzel Smart, DT, Tulane (SR)
Jamari Staples, WR, Louisville (SR)
Orion Stewart, S, Baylor (EW)
Sam Tevi, OT, Utah (EW)
Dymonte Thomas, S, Michigan (EW)
Brad Watson, CB, Wake Forest (EW)
Davis Webb, QB, California (SR)
Jamaal Williams, RB, Brigham Young (SR)
I don't know much about Jessamen Dunker, but with a moniker like that he just has to get drafted. Pancaked or Dunked?

Jessamen Dunker, G, Tennessee State
Height: 6-4. Weight: 301. Arm: 33.25. Hand: 10.13.
Projected 40 Time: 5.18.
Projected Round (2017): 4-6.
3/2/17:
One of the many great things about the Senior Bowl is the small-school players who get the opportunity to prove themselves against a higher level of competition. There have been a number of good prospects who have put their draft stocks on the map via this route, and Dunker had a decent week in Mobile. Dunker needs a year or two of development for the NFL. However, he has decent size and could get stronger in a pro strength and conditioning program. The offensive line class of the 2017 NFL Draft isn't very talented, so Dunker could rise.