A look at the players opposing teams hate to see with the ball in their hands in the open field.
Rams running back
Steven Jackson
on Sunday plowed through several
Detroit Lions
and barreled over umpire Bill Schuster during a bruising 17-yard run.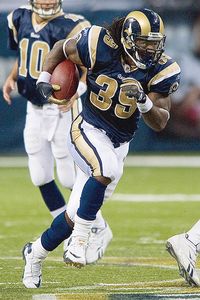 Scott Rovak/US Presswire
Steven Jackson is difficult to bring down in the open field.
"I'm not a guy who can stop on a dime -- I'm just going to be flat-out honest with you," Jackson told 101ESPN St. Louis. "If I'm going in one direction and you're in the way, I'm sorry."
The statement could apply to quite a few linebackers and defensive backs, and probably some defensive linemen, too. The 6-foot-2, 236-pound Jackson combines uncommon size -- he's an inch taller and 20 pounds heavier than
Adrian Peterson
-- with the speed, moves and heart to make him the NFC West's most dangerous player in the open field.
One play after that 17-yard run against the Lions, Jackson outran a linebacker and a safety for the winning 25-yard touchdown.
"He is a big back that can move like a smaller back -- he makes people miss," Rams coach Steve Spagnuolo said.
Jackson isn't the only NFC West player defenses fear in the open field.
Cardinals receiver
Anquan Boldin
attacks defenders with a ferocity that might be unique among current players at the position (with the exception of the Steelers'
Hines Ward
). Niners running back
Frank Gore
is another tough matchup in the open field. He runs hard and has deceptive power. But no player in the division consistently punishes and defeats tacklers as effectively at Jackson, who seems to be running harder more consistently this season.
Jackson has an NFL-leading 25 rushes of at least 10 yards this season. No one else has more than 22. Only five have more than 15.
"I know people don't like to tackle him," Spagnuolo said. "I remember defending and playing against him and there were murmurs always on the film that guys really did
Via ESPN
Most feared player from the NFC West, that's what I like to hear...the man's a BEAST!