Cousins is pretty rich, so that wouldn't be the worst thing in the world
Rookie seasons are rarely memorable for NFL quarterbacks, but
Jared Goff
's first shot as an
NFL
signal caller was entirely forgettable. He rode pine until late November, with
Rams
coach Jeff Fisher stubbornly sticking by
Case Keenum
. When he finally got the starting job, Goff went 0-7, was a little lucky to complete 50 percent of his passes and threw just five touchdown passes, three of which came in one game against the
Saints
.
Fisher was fired midseason and the Rams cleaned house after 2016 ended, all while watching the
Titans
select a talented wideout with the top-five pick that the Rams handed them as part of last year's Goff deal. The Rams' next hire was a critical one and they went uber young with it, bringing 30-year-old Sean McVay over from Washington.
(The Rams are back at training camp! Don't MISS anything as they prepare to try and make the playoffs --
take five seconds to Sign up for our Free Rams newsletter now!
)
Make no mistake, McVay's hire is about turning Goff into a legitimate quarterback. McVay's tutelage in Washington turned
Kirk Cousins
into the ultimate conundrum: a quarterback who plays well enough you have to pay him but not well enough to commit past massive single-year franchise tag deals.
A lot of what you see with Goff and the Rams from 2016 is a case of Los Angeles putting major reigns on their rookie quarterback and limiting what he can do with a particular play. There are four guys running routes here but only one of them is really in play here. Goff is throwing to
Tyler Higbee
.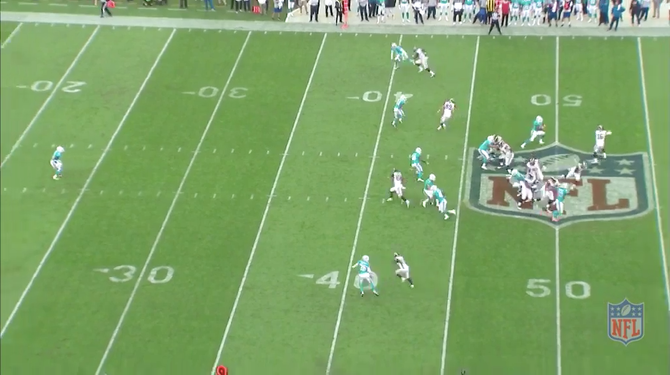 via NFL GamePass
It's not surprising for an offense to put a cap on a rookie early on and for coaches to limit the amount of things a player has to worry about, but Goff was so obviously locked into a single target that he was sometimes throwing before he finished his drop.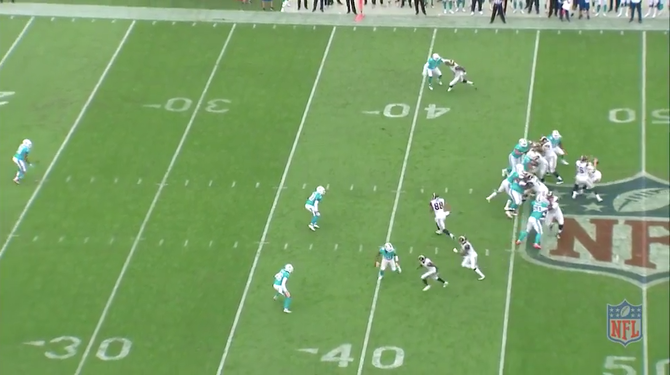 via NFL GamePass
Again, there are four routes being run but three of them might as well be decoys. This throw, by the way, resulted in a 19-yard completion and even set up a 24-yard
Todd Gurley
touchdown run. But let's not get too caught up in results. Everything about the gameplan in Goff's first start -- Week 11 against the
Dolphins
-- was rudimentary to the nth degree.
The creativity level was about what you would expect out of the worst offense in the league. The Rams averaged a measly 14 points per game and trailed even
the 31st-ranked Jets by a healthy margin in DVOA
. On a critical 3rd-and-4 play call against Miami, with the Rams leading 7-0 and 2:32 left in the second quarter, here's what Goff saw at the top of his shotgun drop.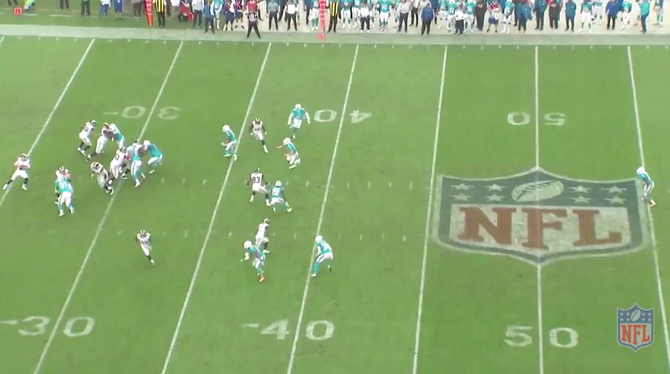 via NFL GamePass
It looks like rush hour between the hash marks.
Ndamukong Suh
ripping through the offensive line didn't help matters and it resulted in a sack. Pressure was a problem for Goff, who finished the season with a 50.8 accuracy percentage on plays where he was pressured according to Pro Football Focus. Only
Blaine Gabbert
was lower.
And that might not change. There are still issues with the Rams offensive line, although the addition of veteran
Andrew Whitworth
should be a huge help in pass protection. Goff needs to do better jumping the gun and leaving the pocket. He also appears a lot of times to be throwing primarily with his torso, not getting his entire body behind throws and almost aiming more than throwing. The result was some seriously scattershot accuracy; Goff completed just 54.6 percent of his passes.
The McVay effect
The good news for him is that McVay specializes in cranking up the completions. In Kirk Cousins two seasons as a full-time starter, both with McVay as his offensive coordinator, he completed a whopping 68.3 percent of his passes, including a league-leading 69.8 percent in 2015.
Ignore any criticism you/anyone else might have of Cousins: If the Rams were guaranteed that Goff could produce stat lines like Cousins has over the past two years they would sign off on it in a heartbeat. After a rough rookie year his ceiling doesn't look guaranteed.
Fortunately there are a few different ways for McVay can improve the situation. It starts with Goff's head -- he and McVay have to be seeing and thinking the same things as it relates to playcalling and defensive coverages they're seeing. Transitioning to the NFL is hard.
Transitioning out of Sonny Dykes' "Bear Raid" system
and into a pro-style scheme was never going to equate to early success. McVay believes Goff's taken a pretty big leap "above the neck."
"I thought he handled the above the neck information, getting in and out of the huddle, did a nice job commanding that. And with the drop back game, he did a good job," McVay said this offseason during
an appearance on the "Rich Eisen Show
." "He's got a good feel, it's just figuring out a way to be consistent, kind of really becoming an extension of the coaching staff. And when you do that, you feel really good. We have different things we want to emphasize offensively, but certainly we're going to put a premium on what our guys get good at."
If we're buying what McVay is selling, there's good reason to think Goff will be significantly more prepared from a mental standpoint this year than he was last season. It's a low bar.
Washington ran 11 personnel (1 RB, 1 TE, 3 WR ) 73 percent of the time in 2016, sixth most in the NFL. The Rams ran it 65 percent of the time. But Washington was substantially more successful than Los Angeles,
generating 6.5 yards out of the formation
to L.A.'s measly 4.3.
It's possible a simple upgrade in playcaller could make an immediate impact. Here's a play from the
Redskins
' Week 1 game against the
Steelers
with three wideouts and
Jordan Reed
lined up on the right side of the line. On 2nd-and-5 from the Washington 44, Cousins takes the snap out of shotgun and drops back. At the top of his drop, he has an easy option to hit Reed underneath as he runs an out route but instead chooses to push the ball downfield to
Pierre Garcon
.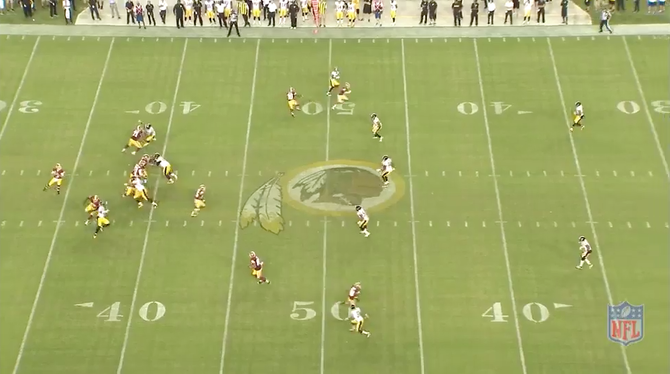 via NFL GamePass
The throw actually wasn't great, but the timing and a nice adjustment from Garcon led to a gain of 19 yards. The same thing is unfolding at the top of the screen. It's not a complex playcall, but with the Steelers in zone it did a nice job of giving Cousins multiple options.
On the other end of the spectrum is this play in Goff's start against the Saints (his three-touchdown game). The Rams lined up in 11 personnel and sent four guys out to catch passes. It's not entirely clear if Todd Gurley was staying in to block, running a delayed route to the right or trying to spear his lineman in the back. Whatever, it's irrelevant -- what matters here is that the Rams, on this 2nd-and-2 from around midfield (fairly similar situation to what the Redskins had) decided to send four receivers on deeper routes.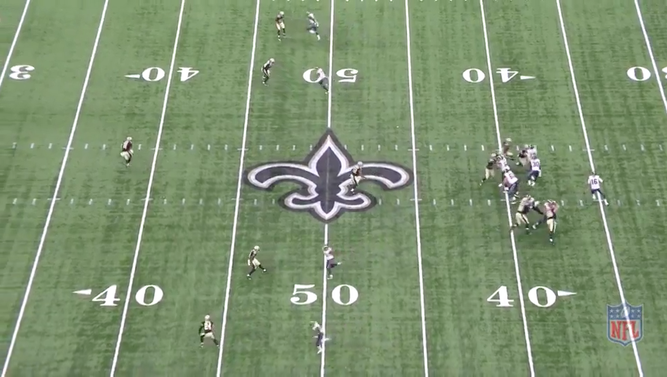 via NFL GamePass
Kenny Britt
(top of the photo) would run a comeback route and get some separation, but by the time Goff made his throw he was facing heat from the Saints pass rush.
The key difference here is that McVay used his playbook to put Cousins in a position to make a decision. He doesn't have to be a hero, he just needs to be smart. And say what you want about Cousins, but he has developed into a smart triggerman for the Redskins offense.
He's a point guard of sorts -- it's not his job to shoot 30 shots. He just needs to make the right passes at the right time and let the scorers do their thing. Which is kind of the crux of the Cousins conundrum and why we're constantly battling about how much he should be paid. No, he is not the best quarterback in the world. He doesn't even always execute the decisions he makes real well. Even on some of the big pass plays there are ducks out there. But he knows what he's doing and the system he's running, with the weapons he has helps to elevate his skill set. It has worked pretty well the last two years.
Goff's passing-game options
The actual personnel involved here is going to be an issue, of course. They don't have
DeSean Jackson
, Jordan Reed, Pierre Garcon and
Jamison Crowder
to flood the field with. But give Les Snead credit for the way the Rams approached this draft -- there was a clear intent to get some weapons for McVay to plug in around Goff.
And it's not hard to imagine that some of them will work in a similar fashion.
Cooper Kupp
reminds me a little bit of Crowder. (You thought I was going to say
Wes Welker
, didn't you?)
Josh Reynolds
is a big play waiting to happen. Combine him and
Robert Woods
and the Rams have a little bit of size to complement Kupp and
Tavon Austin
. No one is saying these guys will be even close to what Cousins dealt with this coming season, but there is some growth potential. The Rams also invested two early picks in tight ends the last two years in
Gerald Everett
(second round, 2017) and Tyler Higbee (fourth round, 2016).
The loss of Kenny Britt in free agency is going to sting big time, though. Britt was the first Rams pass catcher to top 1,000 receiving yards since Torry Holt in 2007. Again, a very low bar.
Schematically, it should be fairly easy for McVay to help Goff as well.
According to Cian Fahey of Pre Snap Reads, the Redskins gained 7.36 yards per screen pass attempt in 2017, 10th best in the league. Sean McVay certainly didn't lean on the screen game (Cousins ranked last in the league in screen percentages) but it's not hard to envision a scenario where Gurley, Tavon Austin and Cooper Kupp are all featured in the screen game throughout the season. The personnel is there for it and the screen game allows for an easy offensive manufacturing.
The Rams are
making a concerted effort to get Gurley more involved
in the passing game this year which presents even more of an opportunity to create high-percentage throws for Goff.
Changing coaching staffs and offensive systems isn't easy for a young quarterback, but all told the switch should be a net positive for Goff. And while no one thinks he is going to make a leap and become some elite player in his second season, there is ample evidence that Goff could actually give the Rams some return on their investment this year.