Rams Offseason Recon: Running Back
As we go through the offseason, I thought it would be useful to look at the position groups on the Rams and see exactly what the team has and where improvements could be made. The second installment in this Rams Offseason Recon series is the running back position. I'd love to hear everyone's thoughts on what I've provided and what you'd like to see the team do as we go forward with this and other position groups as those threads are made!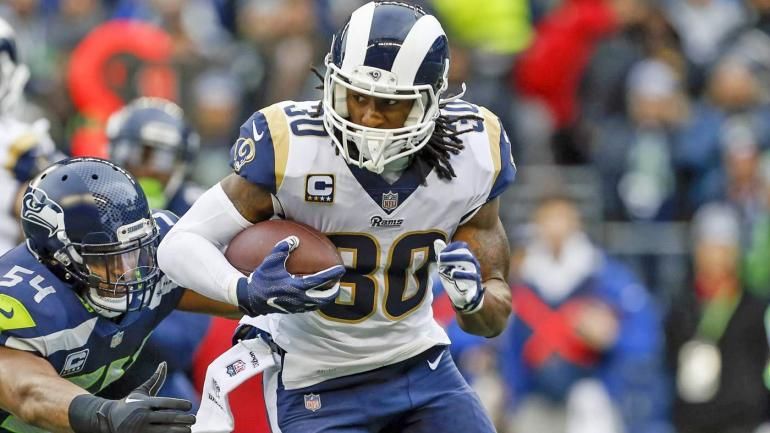 Focus Position:
Running Back
Current Starter:
Todd Gurley
Back-Ups:
Malcolm Brown, John Kelly, Justin Davis
Roster Analysis:
Oh boy, where to start here? What once looked like the strongest offensive unit of the team primarily due to Gurley's dominance now has a big question mark going forward. Gurley led the league in touchdowns, and finished among the top five in yards from scrimmage, all-purpose yards, and touches. But the workload apparently took its toll on Gurley; he sat out the final two games of the regular season, and was used sparingly (to put it mildly) through the playoffs. In fact, after Week 8 of the season, Gurley ran the ball more than twenty times only once, against Detroit. The signing and emergence of C.J. Anderson – who does not appear on the backups list above as he is currently not under contract – helped the Rams monitor and restrict Gurley's usage as to not wear him out, but it's clear this was a season of two halves for #30. With that in mind, where does that put him going forward? This is the last thing the Rams wanted for a number of reasons. Obviously, no one wants the centerpiece of their offense to suddenly look vulnerable, and concern for Gurley's health are legitimate when it comes to his playing career and life after football. But from a team standpoint, the Rams just signed Gurley last summer to a near $60 million deal. If Gurley can't regain his form, that's a lot of money the Rams will be on the hook for over the next couple of years. Even assuming Gurley does regain his mojo, having a backup runner behind him capable of sharing some of the load and keeping Todd fresh long term will be vital, as Anderson proved late into the season. The Rams have some young players they seem to like in Brown, Kelly, and Davis, but none of them were called up to the plate when Todd was injured, as the Rams instead turned to the free agent market late in the season to find Anderson. It makes you wonder exactly what the Rams feel they have with their trio of young runners. At this point, I'm not sure any of them should be viewed as irreplaceable on this roster, though ideally you'd like to see at least one of them emerge into a capable backup who could step in when needed.
Free Agent Options:
The obvious free agent option is C.J. Anderson, whom the Rams did not resign prior to the start of free agency and hasn't really received much attention on the market. According to NFL Network's Ian Rapoport back in early February, the Rams really wanted Anderson back this season. So what's the hold up? Maybe the Rams want to see what their options are in the draft before bringing C.J. back, in case they're able to get a young runner with less tread on the tires. Or maybe C.J. is waiting for an offer from a team with a bigger role before coming back to the Rams. It's hard to say at this point, but the Rams should definitely have Anderson's phone number on speed dial after he posted three games of 100+ yards in a row for the team, each averaging over five yards per carry in the process. His production late into the post-season wasn't as impressive, but he definitely carved out a role that you'd think the Rams would want to fill. If they opt to go with a free agent back besides Anderson, there are some names out there to consider. At 33 years old, Marshawn Lynch is still managing to get it done on the field, averaging 4.26 yards per carry since returning in 2017, though injuries have been an issue and it's unclear if he still intends to play football. Former Dolphins and Eagles running back Jay Ajayi might be the most talented option still available, but has had his own injury concerns and is coming off of a torn ACL. One name to keep an eye on if the Rams want a younger veteran who can grind out some situational yards is Isaiah Crowell. He turned 26 years old in January and has averaged over four yards per carry in four of his five seasons with the Browns and Jets.
Draft Options:
Head coach Sean McVay has said he wants to add explosive players this offseason, so perhaps a young, dynamic 'back will catch his eye in the draft this year. In this year's class, it doesn't get more explosive than Oklahoma State runner Justice Hill, at least when it came to testing. He wowed at the combine with top showings in the forty yard dash, vertical jump, and broad jump. He doesn't have the size of an Anderson, but is more along the lines of John Kelly's listing. Scouts will have to go back and see why Hill's numbers didn't always translate to bigger plays on the field, but he's worthy of consideration near the end of Day Two. That being said, with what the Rams have on the roster both in Gurley and existing backups, it's hard to see them spending anything more than a Day Three pick at this position, if they draft someone at all. There are some Day Three options that intrigue me, though. Nebraska's Devine Ozigbo has nice size for the position and displays the kind of traits you look for in a capable downhill runner. Temple's Ryquell Armstead is another downhill runner who can find room inside while bowling his way through tackles. Someone like Travis Homer of Miami could come in as an undrafted free agent and earn a spot, especially given his ability to help in pass protection.